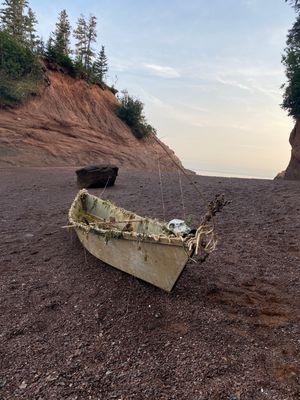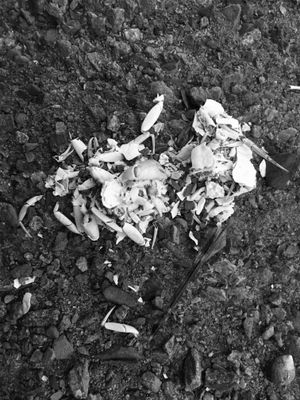 Brian Riley
---
Core Production Team
My name is Brian. I am 5'9". I use he/him pronouns and am a white male living in Maqapskekejk/Wolfville NS. I make art. My art thrives in community. I create sound designs and installations for dance and theatre. I have a lovely family with 3 kiddos and amazing partner Hillary. Lately I am working with Mocean Dance, Zuppa Theatre and The White Rabbit Arts community coordinating and facilitating. My leadership style: minimally structured, creative group experiences. I worked with Bread & Puppet Theatre (Vermont USA) in 2012-13 and still run off of that fuel.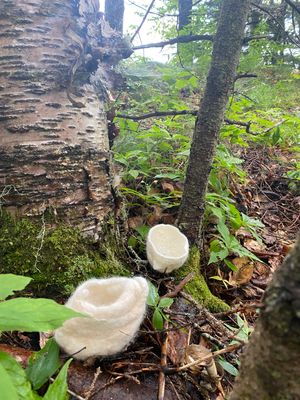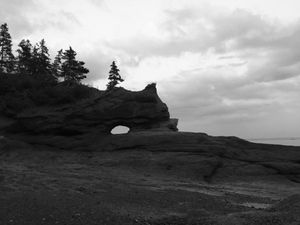 Megan Stewart
---
Core Production Team
Megan Stewart is a theatre artist residing and working in Epekwitk (Prince Edward Island), the ancestral and unceded territory of the Mi'kmaq people. A director, producer, dramaturg and performer, much of her practice centres upon large-scale collaborative theatre projects and community-engaged creation. She has established several outdoor theatre festivals and performance events on PEI, including the March of the Crows for Art in the Open in 2011 (with Jamie Shannon & Harmony Wagner), and the Island Fringe Festival with Sarah Segal Lazar in 2012.
She is the artistic director of The River Clyde Pageant, a non-profit organization presenting outdoor, community-engaged theatre and art events in New Glasgow, PEI, which she co-founded in 2016 with Ker Wells.
In addition to co-directing and producing each summer's River Clyde Pageant, recent projects include co-instigating The Soley Cove Legacy Project; co-creating The Flock, a roving performance for Art in the Open 2020; and starring in the Bell Fibe TV1 series Aww Shucks. She is currently working as a director and dramaturg for the upcoming show Songs for a Lost Pod by Leah Abramson, and developing a new solo performance.
Megan holds an MFA in Interdisciplinary Arts from Simon Fraser University, and a Bachelor of Arts from McGill University.
www.meganblythe.com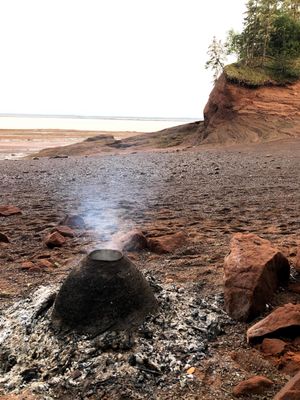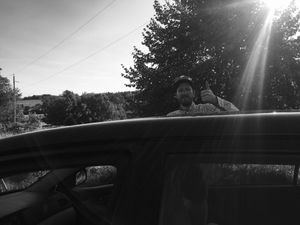 Clare Waque
---
Core Production Team
Clare is an entrepreneur; it is her goal and great pleasure to invest energy and ideas in the creation of opportunities, experiences, and successful projects. Clare lives in Keno'mi ( Economy, NS ) but plans to climb every mountain. Her favourite tools are a chainsaw and a spreadsheet. She is a new mother of twins, a keeper of bees, a blazer of trails, a community organizer, and a believer in conversations over conflict. Her best friend is Tom Young, and she is grateful to have had this project to work on, as it has been a wonderful way to share in his spirit.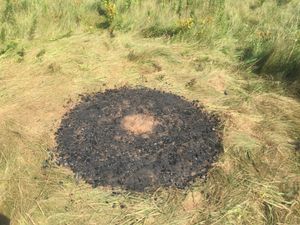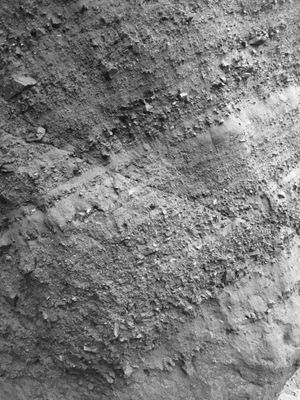 Thea Fitz-James
---
Core Production Team
Thea Fitz-James is part academic and part theatre practitioner. She holds a PhD in Performance Studies at York University, where she wrote about queer performances of textiles in activism and performance art. Thea is a theatre maker and performance artist, having created work with FADO in Toronto (Daughter's Disease), Secret Theatre in Halifax (No Filter), Summerworks (Naked Ladies), and the School of Making/Thinking in New York. Her solo performance piece, Naked Ladies, made international news when it was banned in Singapore in 2017, and her other solo show Drunk Girl has toured internationally to the US and Australia. She has curated performances for the Cucalorus Festival, and has taught courses in theatre history and theatre for social justice. Thea was a key to initiating the consent movement on the Canadian Fringe Circuit, co-authoring and disseminating a letter to the fringes signed by 250 fringe artists. It is in the area of queer performance and communities of accountability within the fringe that she is now focusing her research. Currently, Thea is the program manager for ArtsUNITE, an online platform which aims to help Canadian artists find resources and support during the pandemic. Thea Fitz-James identifies as part of the queer community (as a pan/bi sexual), and part of the 'mad' community, as manic, and is a white, cis female settler.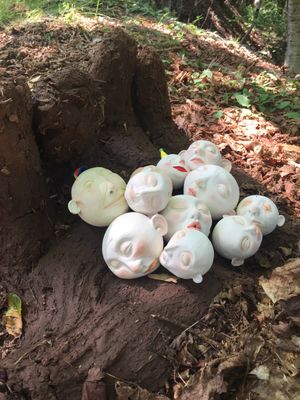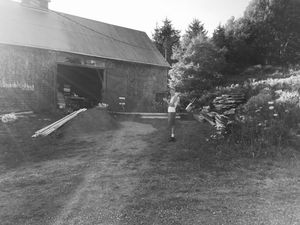 Feems (Fahima Gibrel)
---
Core Production Team, Writer
A creative strategist, Communicator, Mix media artist. A system thinker that uses creative media and storytelling as a bridge to deconstruct the system and decolonize narrative - to connect, inspire and engage for resilient community and equitable system.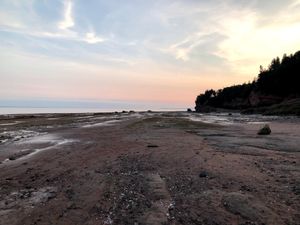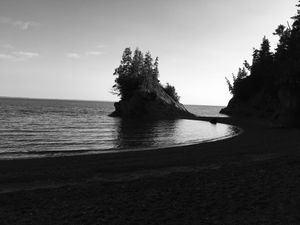 Zoe Seglins
---
July Residency Artist, Field Antics
Zoe Seglins is a multidisciplinary artist living and playing in Kijipuk'tuk. The sea, fog and costal foliage is her greatest inspiration.
She works largely with wild, and tamed fibre; exploring the distilling process of truth, story, and the transmutation of grief and joy. She is forever seeking questions, rather than answers; understanding that doing, and un-doing are twined actions, vital to our job as creators, thinkers and change-makers.
In her recent explorations, Zoe has been working with worn and torn materials and giving them stories worth their weaving.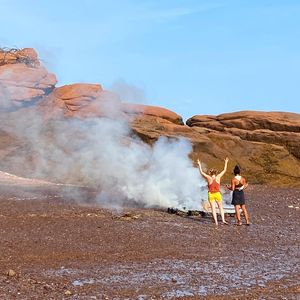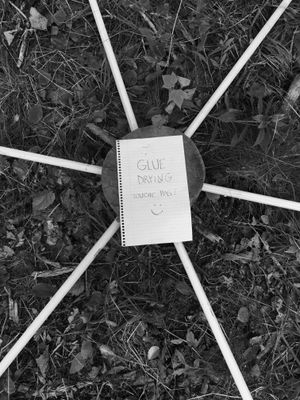 Katherine Marsters
---
July Residency Artists
Katherine Marsters has a deep love for life and attempts to weave beauty, inspiration and hope throughout her days. She is a shopkeeper, facilitator and an audiologist, and spends her time growing food, tending the hearth and renovating tiny structures. Through the Work that Reconnects she is exploring interconnectedness and how to evoke creative, compassionate and transformational pathways to resilience.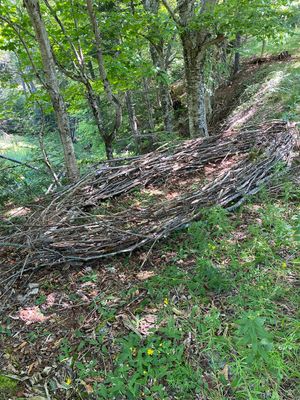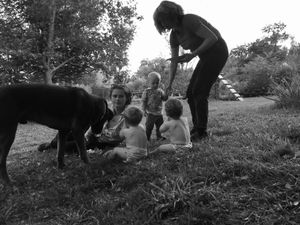 Ryan (She/her by proxy)
---
July Residency Artists
...is rocking the big five-oh this summer, and still celebrates how un-together their sh*t is. Risk-adverse, pro-curiosity, and willing to delight in mistakes: Let's see what happens when we let go and sink into the senses.
Sporting a varied history of explorations (mathematically inclined, classical piano background, land-listener), Ryan fills the fridge by nursing in the ICU. Ryan is a blueberry-addicted, hammock-sleeping, former unschool mom-ing, hippie-punk, wanna-be composer.
Sometimes what one has created (on-stage, off-stage, with bonus non-neurotypical social ineptitudes) seems to delight...and other times appears to be a (hilarious to me) disaster, a mudded face-plant where one may wallow in embarrassment. Ryan asks 'what do we have to lose?' Reputation is a strange bed-fellow to court, but consider the layered legacy Tom left: We may wonder what legacy we will leave, and how kindnesses are never forgotten: Welcoming spaces heal those who show up.
An invitation to consider courageousness: practice being kind to yourself. What does self-compassion sound like? feel like? look like? How does compassion compel one to dance? Is kindness a colour or a balance or a belief? Is kindness a lens that distorts or undistorts?
(Photo by David M. Shih) "Are you saying I'm a nut?!"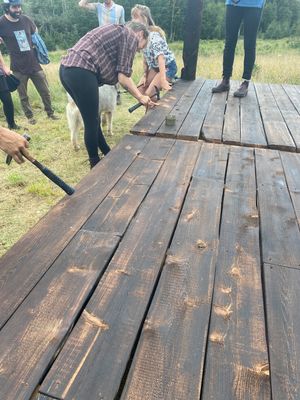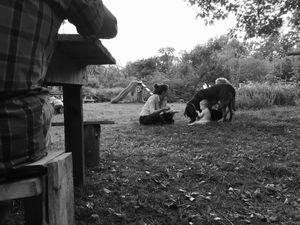 Lux Habrich
---
July Residency Artists
Lux Habrich is an interdisciplinary visual artist, arts facilitator and support worker practicing in K'jipuktuk (Halifax) following a BFA focused in ceramics and textiles from NSCAD University in 2015.
She is drawn to the immense healing embedded in tactile processes and the intimate storytelling potential in craft as a means of accessing and sharing unspoken legacies and vulnerable narratives of resistance. Committed to expressing marginalized experiences, developing inclusive creative platforms, and reimagining cultural futures – Lux externalizes intense internal grievances, to open up collective issues and qualities of larger community struggle to allow for mutual moments of compassion and care.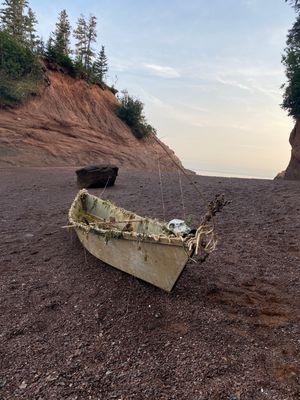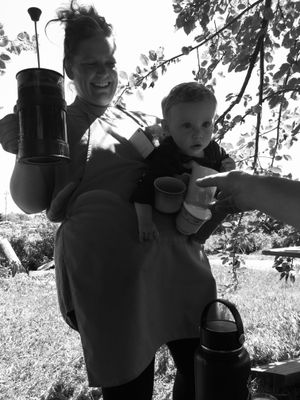 Danielle Harris
---
July Residency Artists
Danielle Harris-D'aoust is an emerging ceramic and fiber sculptor located in Hantsport Nova Scotia. She. Is a recent graduate from NSCAD University, where she specialized in ceramics and sculptural techniques. Danielle is a Mad artist who's work explores her reality living with PTSD and addiction, and she is curious about her soft materials interaction with hard subject matters.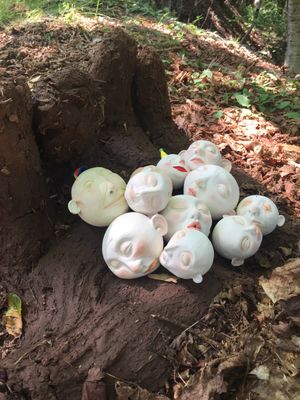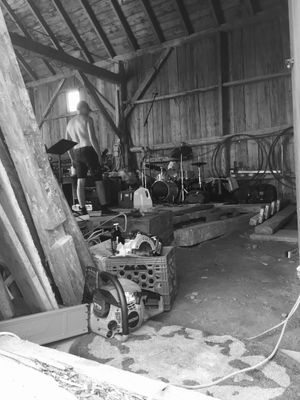 Steph Rybczyn
---
July Residency Artist, Writer
Steph Rybczyn is a human person who likes to sniff the earth and touch soft things. She would like to know what it's like to be a snake or a fish, but has been unable to find anyone who will show her. Sometimes she makes things out of other things and then puts you inside them. She can't say no to a good potato.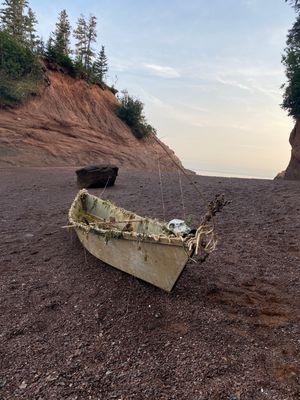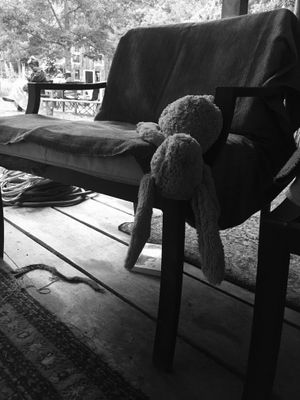 Nat Chantel
---
August Residency Artists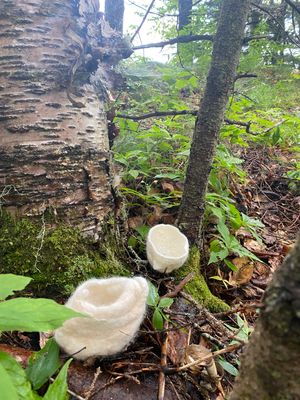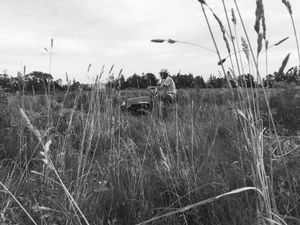 Gillian Dykeman
---
August Residency Artists
Gillian Dykeman is a multi-disciplinary artist based in Fredericton, New Brunswick. Working through an intersectional feminist and postcolonial framework, Dykeman seeks to empower her audiences in their own lives through playful and critical engagement with visual culture. Her work spans mediums and disciplines such as performance, video, sound, installation, and art criticism. She has exhibited her work in Vienna, Los Angeles, Anchorage, Chicago, Toronto, Montreal, Halifax, London, (ON), and throughout New Brunswick. She has a MVS from the University of Toronto, and a BFA from NSCAD. Dykeman is an instructor at the New Brunswick College of Craft and Design. Open to experimental venues, her work has found its way into galleries, exercise studios, a rare book library, and a geodesic dome.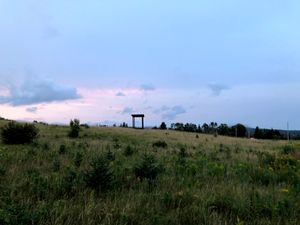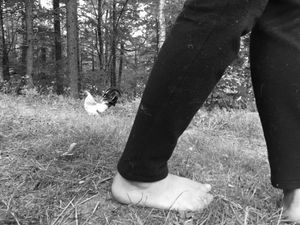 Coco Harris
---
August Residency Artists
Coco Harris (she/they) is a shadow puppeteer, singer, stage manager, plant-based chef, intuitive herbalist, creator and collaborator, based in Mi'kma'ki, the unceded ancestral homelands of the Mi'kmaq. A graduate of Acadia University's Theatre program (2012), Coco has since been part of many performance-based projects, including an artistically transformative White Rabbit Arts residency in 2015. She is one third of the band Foxfire, an eclectic trio of multi-instrumentalists with velvet-rich harmonies. Her practice continually dives into exploration of light and shadow, of song and story, of healing and heart.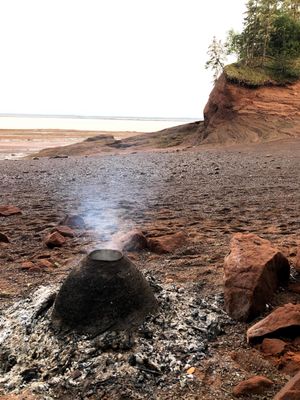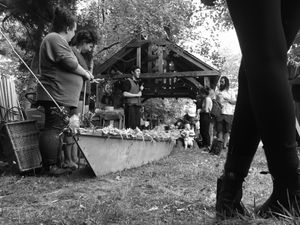 Judith Bauer
---
August Residency Artists
Born in Montreal, judith S bauer studied fine art at BealArt in Ontario, and biology at the University of Waterloo and at Concordia University in Montreal. judith's poetry can be found in chapbooks, magazines, online, on floors and garage doors. She has performed on radio and at venues, festivals, and cafés in both Québec and Nova Scotia. Her visual work has been in solo exhibitions in both provinces & group exhibitions in Canada and the US. Since 2015, judith works sculpting wild paper, a natural material produced by the action of the tides. judith currently lives and works in Parrsboro, Nova Scotia where she and her partner operate the Main & Station Nonesuch arts centre and residency program.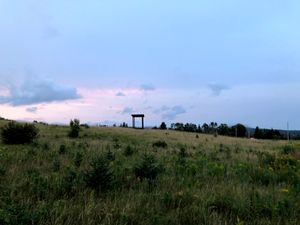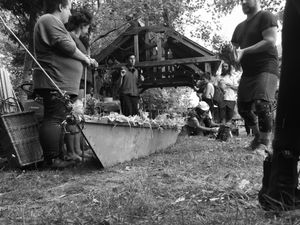 Sarah Bezanson
---
August Residency Artist, Hospitality and Transport
I'm Sarah and I love and work in Kjipuktuk, Mi'kma'ki. I use she/they pronouns. I make art in a variety of mediums. I'm currently exploring screen printing, block printing, leather crafting, quilting, and pyrography. This summer, I'm also dabbling as a balcony gardner, and currently have 6' tall tomato plants!! I was an artist in residence in 2019, and am currently a volunteer at Inkstorm in Kjipuktuk. I'm also finishing my Visual Arts Certificate at NSCAD.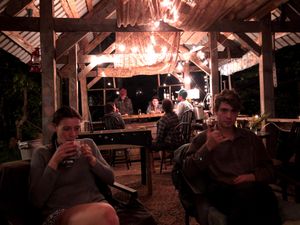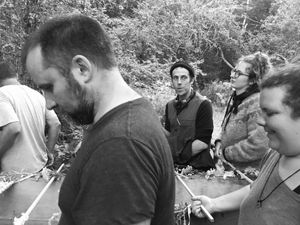 Michael Waterman
---
August Residency Artists
Michael Waterman is a visual and audio artist whose work focuses on sound installation, improvisational performance, and experimental radio art. He is especially interested in performance on found objects and altered electronics which he fashions into unique musical instruments. He has presented his sound installations and performed extensively in museums and festivals across Canada, the United States, and in telematic performances globally. Waterman is a founding member of a number of sound art collaborations most notably, his audio collage ensemble Mannlicher Carcano who have explored a range of recorded, performance, and transmission contexts over their 30 year history. For the past 22 years, Waterman has hosted the weekly collaborative radio show, The Mannlicher Carcano Radio Hour, regularly connecting participants from up to 12 cities across North America and Europe. In recent years, he has been exploring the creative potential of off-grid pirate radio installations. In 2019, Waterman moved to Ottawa, Ontario from St. John's, Newfoundland where he had been living since 2010.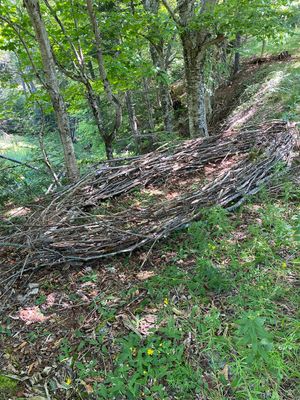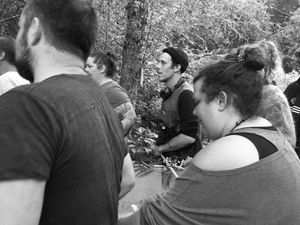 Guillaume Cote-Roux
---
August Residency Artists
Born in Montreal, raised in the woods and now living by the sea. I have studied in environment and sculpture in Quebec years ago, since then I have devoted most of my time working in art and sculpture. I now live in Nova-Scotia (Canada) and work as a traditional boat builder, sometime sailor.
TJ Ediger
---
August Residency Artists
TJ Ediger is an artist and filmmaker living in Central Ontario. His work is focused on broken machinery, forgotten skills, and rural labour. He has participated in exhibitions and residences across North America and currently works as a camera technician focused on 16mm motion picture cameras.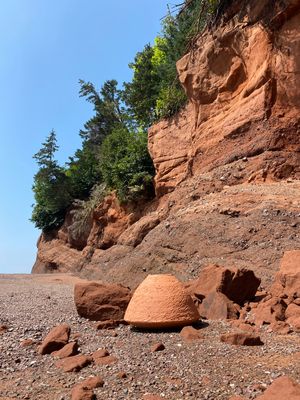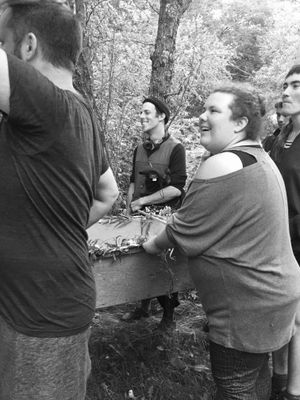 Grace Boyd
---
August Residency Artists
Boyd is an artist living nomadically across Canada currently based on the East coast. Her early life was untamed and mostly outdoors, the natural beauty that surrounded her shaped her identity and art practice, drawing her to the soul and magic found in our world. The places she has lived inspire her work and inform her constant need to connect; person, place, and object. She is ever seeking a natural place to rest which drives her to create the world in which she wishes to belong.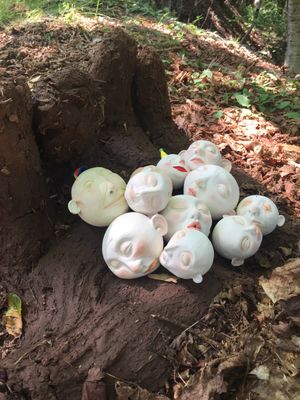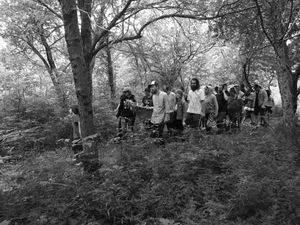 Morgan Zigler
---
August Residency Artists
Morgan Zigler grew up with a half wolf in the interior of (so called) BC and the Arctic, where his Ontarian parents were escaping to the wilds to raise their children in a different culture and landscape. Since, he has been digging around, finding good ways to create wild collaborations between humans and the abundant natural world we are all a part of. Before designing natural program spaces as community artworks in Ontario, Morgan studied art in Scotland, Permaculture in wales, and birds in France. He is passionate about how we can find healthy ways to grow and express together.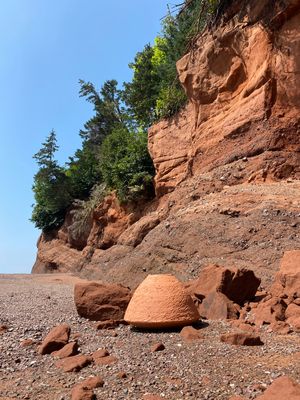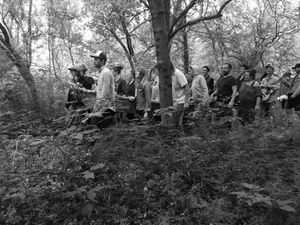 Anand Friesen
---
August Residency Artist, Music
Anand Friesen is an explorative artist based on the east coast of Canada/Turtle Island.
They are self taught; and get excited about learning new mediums, processes and ways of seeing.
A solarpunk in training, they are attempting to bridge the gap between nature and technology.
@heron.visual
@heron.audio
sunyahta.net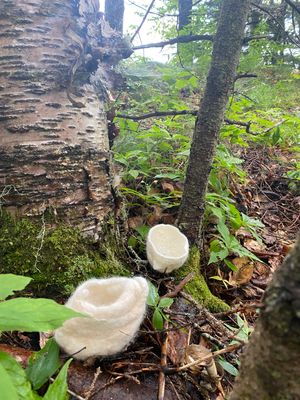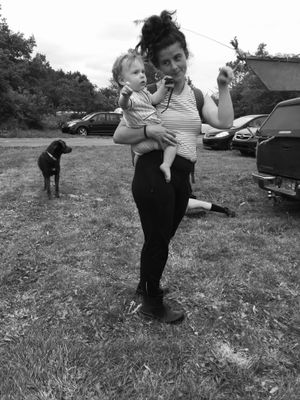 Janna Graham
---
August Residency Artist, Writer
Janna Graham is a radio producer, media artist and writer. Her community-engaged audio work has taken the form of documentary, pirate radio transmission, site-specific installation, oral history projects and audio walking tours. In 2009, she created White Rabbit Arts with Tom Young. She is currently based in Denendeh (NWT) and in Epekwitk (PEI).
Aidan McMahon
---
August Residency Artist, Writer
Aidan McMahon is a video and audio editor currently based in Montreal, QC. Over the past six years, Aidan has edited and mixed for television, film, radio and the web. Combining an understanding of sound and video, Aidan's work and skillset are dynamic and engaging.
Past work includes three years of sound design for television, directing three music videos, and facilitating media workshops. Currently, Aidan is the producer and editor of the CBC podcast Chosen Family.
foxglove fm
---
foxglove fm is a transmission collective based on the shores of siknikt. Audio weavers janna graham & aidan mcmahon embroider the ephemeral with the corporeal in an attempt to broadcast the corpuscular.
Foxglove is your guide to circumnavigate the tides. Tune in, tune out.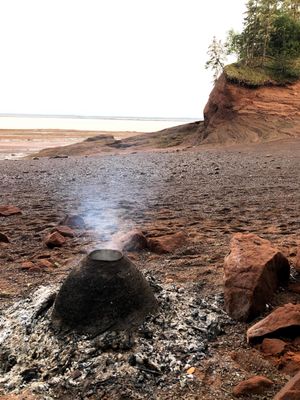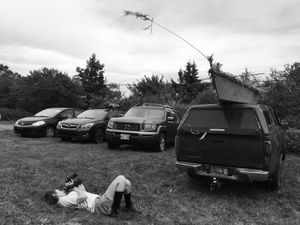 Colleen MacIsaac
---
Program/Map and Visuals
Colleen MacIsaac (they/she) is a multi-disciplinary creator and performer interested in live drawing, map-making, and using art to explore and consider the world around us. Colleen gardens poorly but enthusiastically, sunburns easily, and is only a little afraid of the dark. @littlefoible / @littlefoibleart / @quietprocess / littlefoible.net
Colleen is also the creator of this year's image for the Soley Cove Legacy Project - thanks Colleen!!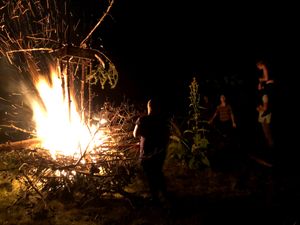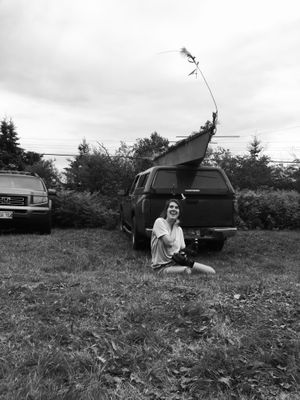 Bill Bissett
---
Writer
hi thea heers an image uv me at work dec 9 tarragon theatr toronto n my bio is bill bissett born on lunaria 400 lunarian yeers ago love dewing sound poetree epik novels n paintings collages n drawings latest book b r e t h / th treez uv lunaria ... from talonbooks n nu book out soon its th sailors life / still in treetment also talonbooks n nu cd on bandcamp with pete dako s t a r s c n heer th 7 approaches 2 writing poetree i travl on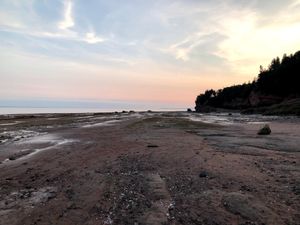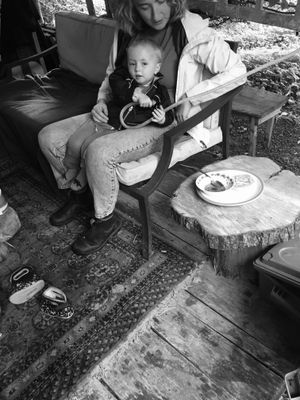 Ian McFarlane
---
Writer
Ian is a maker, performer and community advocate whose multifaceted practice of landscape poetics, junkyard theatrics, and performative alchemy explores the unexpected correspondence between the performing body and the performing of the world. Expanding on the disciplines of puppetry, ecoscenography and sensory ethnography as foundations for creative inquiry, Ian creates works for the theatre, outdoor spectacles and community-led projects. Recent artistic activities include: Late Night Radio with the North Barn Theatre Collective (2020), workshop facilitation at the 2019 Prague Quadrennial of Performance Design and Space with The Canadian Academy of Mask and Puppetry, set design for Playmaking with The Ship's Company Theatre (2020), and Resident Puppeteer with Bread and Puppet Theater 2019-2020, including an international performance of The Honey Let's Go Home Opera at the 2019 Festival Mondial des Theatres de Marionnettes. Ian received an MFA in Contemporary Art from Simon Fraser University in 2018, is a co-producer of The River Clyde Pageant and a co-creator of The North Barn Theatre Collective.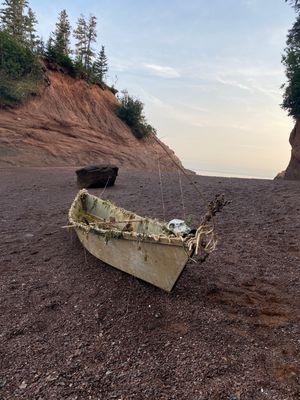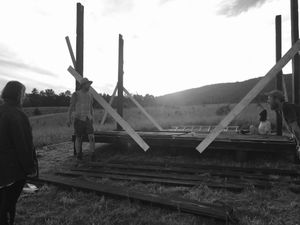 Laura Stinson
---
Writer
Laura (she/her) crafts images from both found and traditional materials. These creations become narratives, characters and atmospheres in a variety of theatrical spectacles. She began her career in puppetry with Bread and Puppet Theater in 2016 where she apprenticed under Peter Schumann and has continued to develop her puppet manipulation and construction with Mermaid Theatre (NS, Canada), Compagnie Arketal (Cannes, France) and Compagnie Coatimundi (Châteaurenard, France). In 2017 she collaborated with Noella Murphy and Julia Walker to form A Road Less Graveled Productions, which has performed puppet shows at art festivals throughout Nova Scotia. After four years working as a touring member and subsequent resident puppeteer for Bread and Puppet, Laura co-founded The North Barn Theatre Collective in 2020. She currently lives and makes art in Mi'kma'ki.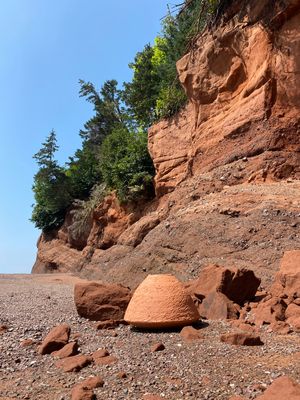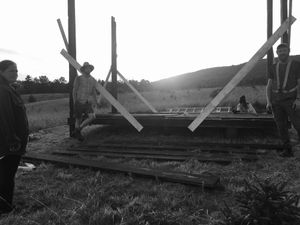 Andrew Patterson
---
Writer
Andrew Patterson is a writer / reader / listener of settler ancestry currently living as a guest in Tio'tiá:ke/Montreal. He is the former creative director of EVERYSEEKER, a genre-fluid contemporary music festival in Kjipuktuk/Halifax. His poetic practice has been supported by Arts Nova Scotia, Nocturne Halifax, La Fonderie Darling, The School Of Making Thinking, Kinetic Studio, Sappyfest, White Rabbit, The Elizabeth Bishop Festival and others. Andrew's current projects include MUSIC REGULAR, a free monthly newsletter, and his two-year old son, who was accidentally named after Drake.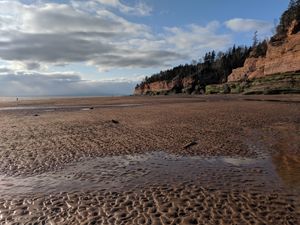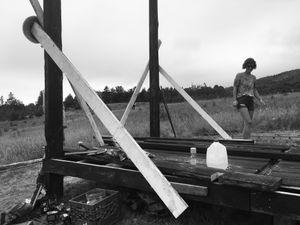 WhiteFeather Hunter
---
Writer
WhiteFeather Hunter is a multiple award-winning Canadian artist and scholar. She is currently a PhD candidate in Biological Arts at the University of Western Australia, supported by a SSHRC Doctoral Fellowship, Australian Government International RTP Scholarship and University of Western Australia Interational Postgraduate Scholarship. Before commencing her PhD, WhiteFeather was founding member and Principal Investigator of the Speculative Life BioLab at the Milieux Institute for Arts, Culture and Technology at Concordia University (Montreal) from 2016-2019.
WhiteFeather's biotechnological art practice intersects technofeminism, micro- and cellular biology with performance, new media and craft. Recent presentations include at Ars Electronica, KIKK Festival, NZ Centre for Human-Animal Studies, University of the Arts Helsinki, and in numerous North American cities. WhiteFeather has conducted multiple collaborations with scientists, designers and artists: recent collaborative work with artist, Tagny Duff received an Honourable Mention and STARTS prize nomination at Ars Electronica 2019.
www.whitefeatherhunter.ca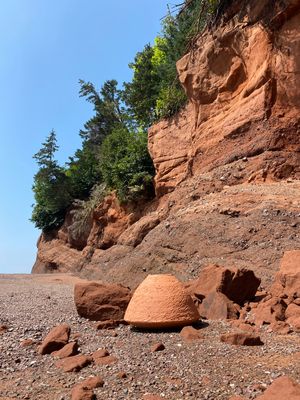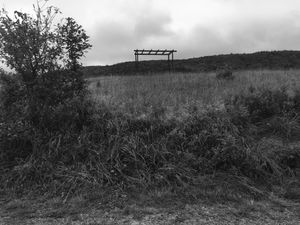 Ken Raj Leslie
---
Field Antics
Dr. Ken has a Ph.D. in Neuroscience and is an adjunct professor of Psychology at Acadia University, and the founder of MotionBed Inc., a start-up sleep technology company (see: motionbed.ca). Dr. Ken is also a mixed race, Indo-Scottish, gen-x Canadian artist and dad with a passion for fun-making, including inciting boffer battles, blowing huge soap bubbles and creating giant cardboard puppets. He is a multi-talented burner with skills in music-making (ukulele, beat boxing, violin, piano, etc.), community development and stop-motion animation storytelling (see: myof.org). Dr. Ken founded and directed Haidawood.ca from 2007-2014, making award-winning animations with First Nations collaborators. Dr. Ken has been facilitating intergenerational communication by running kid zones at music festivals for over a decade (Unifier 2015-2019, Omfest 2014, Entheos 2009-2012). Dr. Ken is interested in co-creating heart expanding shared magical experiences like the Legacy Project, that foster community, transcend cultural differences, and allow for a direct experience with nature. He is grateful to be a member of this heart centered artistic community!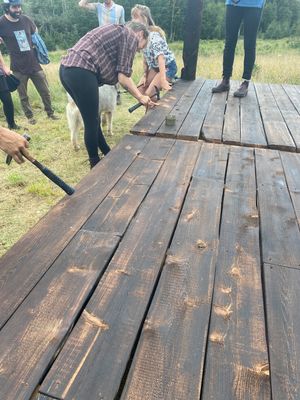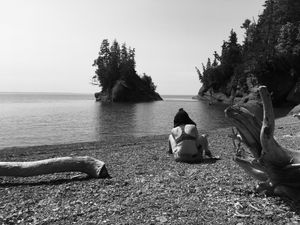 The River Clyde Pageant
---
Field Antics
The River Clyde Pageant engages the artistry and imagination within rural and urban communities on PEI to create seasonal, outdoor performances and art events that illuminate the land and its people. We unite professional artists and local creators across cultures and creative practices in the making of ambitious, provocative and awe-inspiring theatre and art, with collaborative processes that are just as important as the final performances and events themselves. The stories we tell honour the land, water, creatures and people of these communities, especially the Mi'kmaq, whose generations-long stewardship of the land is a practice we aim to follow and encourage among all members of our community.
Our long-term vision is of a world where sustained encounters between community, art and ecology spark transformation and wonder for all. Where creative, joyful disruptions arise through attention to people and place; where strong communities lead with generosity and are rooted in the land. Where people of all ages discover their unlimited potential through collaborative creativity, and truly inclusive communities are learning and evolving our collective histories. At the heart of our work are values of wonder, belonging, attention, care for people and care for place.
Recently, The River Clyde Pageant has been venturing off-Island to share its magic with other communities in Atlantic Canada. The Legacy Project was our second collaboration in Nova Scotia, following the 2019 Lumière Festival in Sydney, Cape Breton.
www.riverclydepageant.com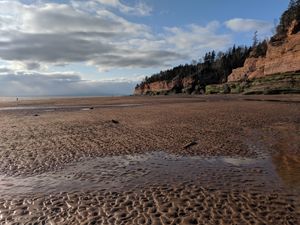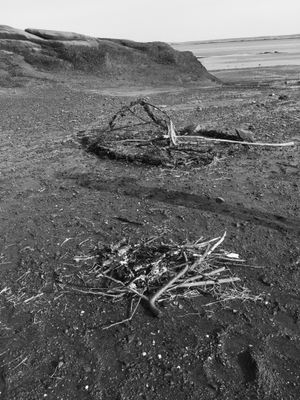 Jeighk Koyote
---
Field Antics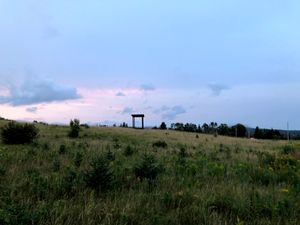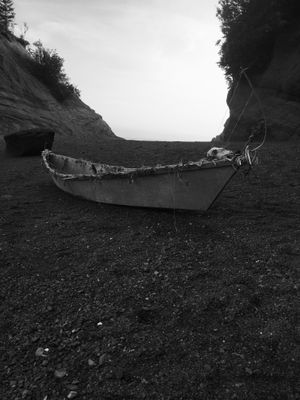 Curtis E. Cando
---
Site Design
Forest gardener, tree planter, beekeeper, keeper of twins, team player, trail builder, adventurous adventurer.
Trying to leave things better than I found them.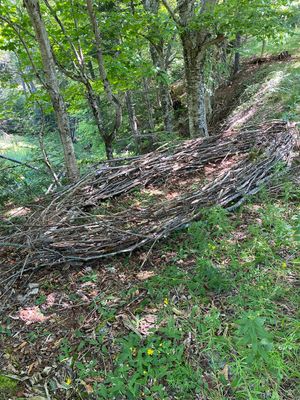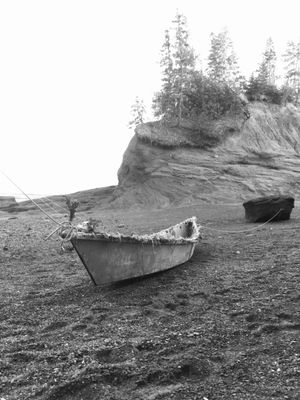 Matthew Sage Dicks
---
Site Design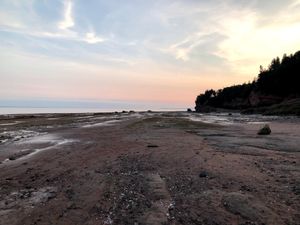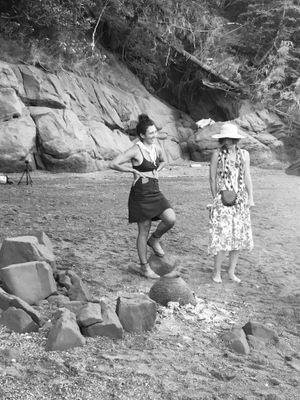 Gregory Woolner
---
Site Design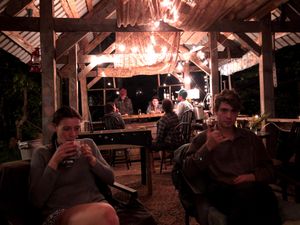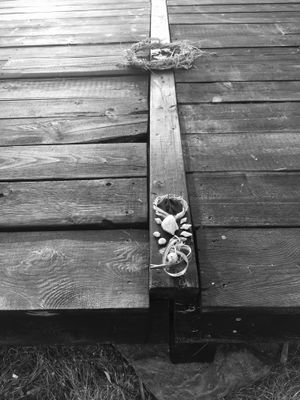 Tom MacDonald
---
Site Design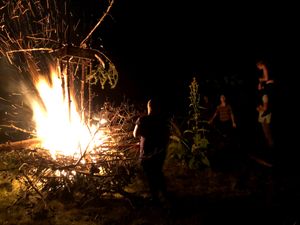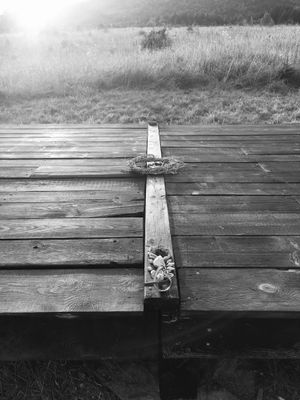 Danny Cartlidge
---
Site Design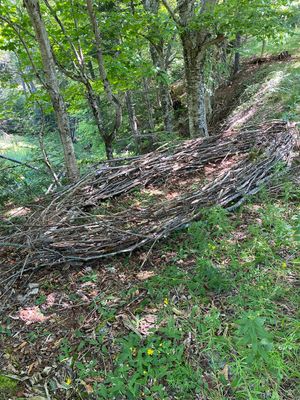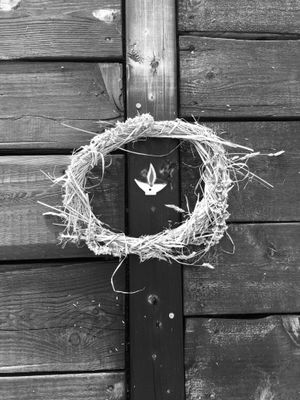 The Young Family
---
Hospitality and Transport
Tess, Robin, Lian, and Raina (Tom's children) and Saydee, Cadence and Jack (children of Tess) are the genetic legacy Tom leaves behind. They lead lives which crisscross and branch off from the Red Clay Legacy, however they have all been greatly affected and influenced by their varied experiences with Tom's creative legacies; the White Rabbit Residencies, Red Clay Arts learning experiences and more. In Tom's last months, they had the privilege of holding space with Tom and listening as he spoke adamantly and enthusiastically about his last burst of inspiration, an event of creativity, illusion, magic and nature. He spoke excitedly about an immersion of art and nature to be held on the property of his dear friends Judith and Harvey, an acreage embracing both coastal shore line and expansive forest; a space he felt a deep connection to and spent a lot of time at in the last year of his life. In his never ending style, Tom has unregrettably swept us all into embracing this phenomenal space and event that we could not be more proud to partake in. With enthusiasm and excitement, we support this event, the culmination of a life of bringing together land, sea, art and community.⠀⠀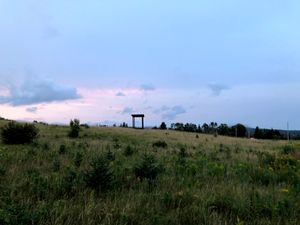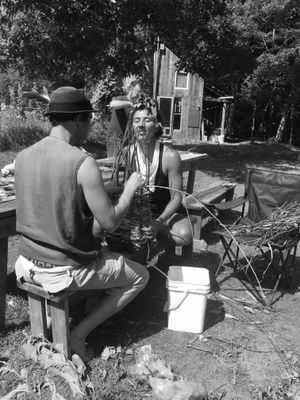 Demian Carynnyk
---
Hospitality and Transport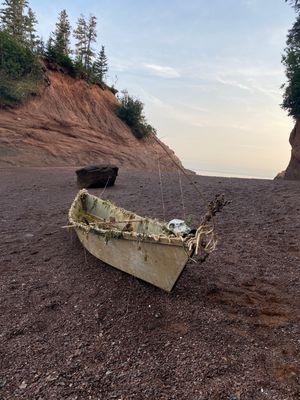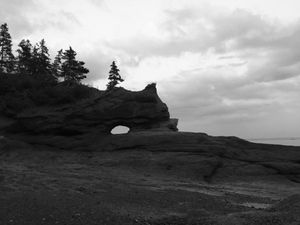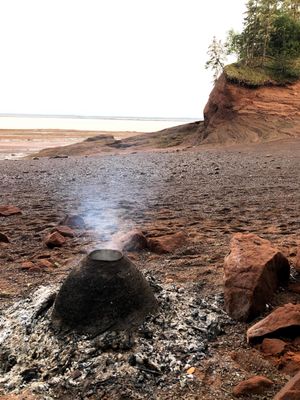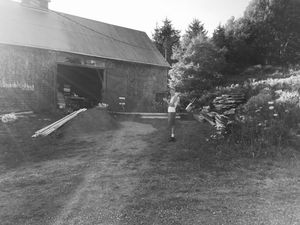 Jacques Mindreau
---
Music
Jacques Mindreau is a violinist, vocalist and composer; he creates music for film, dance, and now theatre. He also has his own solo project that he recently launched dubbed 'Electro Jacques Therapy' which layers loops and vocals in an ethereal haunting manner.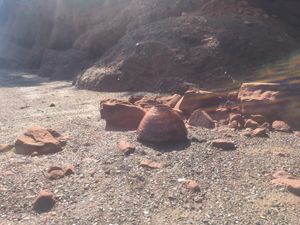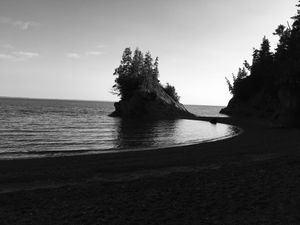 Sarah Lloyd-Pothier
---
Music, Social Media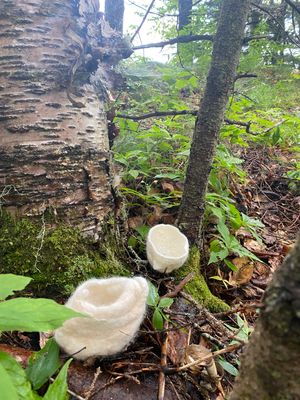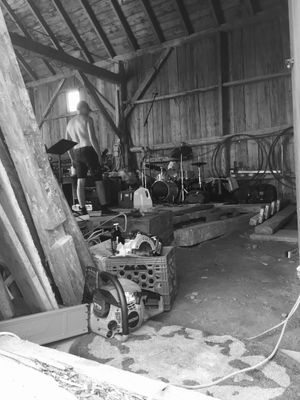 Matthew Gallant
---
Music
Matt Gallant has been involved in the music industry professionally for 18 years, mostly as a high in demand drummer performing in multiple bands. He has been lucky enough to tour across Canada and internationally with a diverse group of artists.
Matt graduated from Dalhouse with a performance degree in Music, and also studied Ethnomusicology in Ghana through the University of Alberta.
Matt has experience in theatre, musical theatre, carpentry and loves to write, and arrange music in different circumstances, working alone or with people that have an array of backgrounds.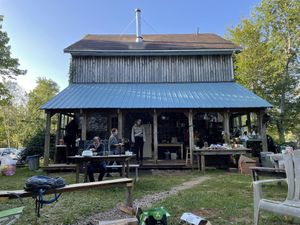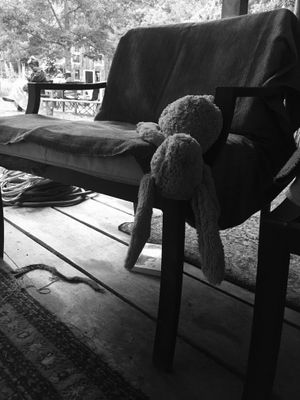 Jason Thomson
---
Website Design and Development
Jason is a theatre and digital design artist from Bracebridge, Ontario. He is motivated by creating stories and bringing people together. Prior to the COVID-19 pandemic, Jason studied at York University (Theatre Production and Design, BFA) and worked in technical roles at various theatre and event venues in Toronto. During the pandemic, Jason embraced the move to remote work, and began working as a website specialist.
Jason specializes in: Sound Design, Projections Design, Lighting Design, Graphic Design, Technical Direction, and Web Development.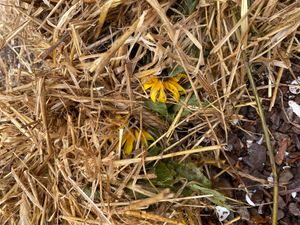 See the Legacy Project on Social Media